SHADOWOOD COFFEE
Shadowood Coffee is made from a premium all-Arabica blend of hand selected coffee beans, cupped and chosen by our master roaster for consistently excellent flavors. The coffee is packaged immediately after roasting, preserving the full body and lasting finish in every cup.
100% ARABICA SPECIALTY GRADE
TRADITIONAL EUROPEAN DRUM ROASTING METHOD
SMALL BATCH, CRAFT COFFEE PROFILE, MEDIUM ROAST
GOURMET TASTE APPEALS TO A WIDE VARIETY OF CONSUMERS
AVAILABLE IN ONE CUP, FOUR CUP & TEN-TWELVE CUP
REGULAR: ONE CUP #0037989, FOUR CUP #0037991, TEN-TWELVE CUP #0040799
DECAF: ONE CUP #0037990, FOUR CUP #0037992, TEN-TWELVE CUP #0040800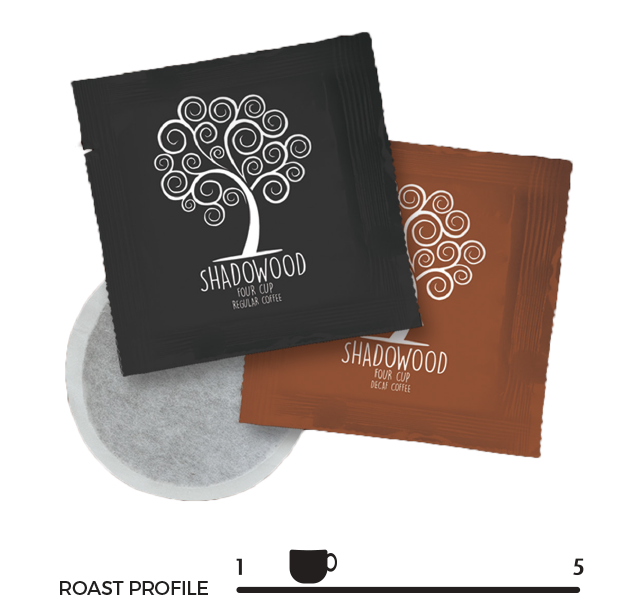 THE SAFAI FOUNDATION
RECOGNIZING THE NEED FOR HEALTHY COFFEE FARMS
Safai Coffee uses 100% specialty grade Arabica coffee grown and shipped from 11 countries around the world. Master Roaster Mike Safai visits coffee farms to build direct relationships with the farmers. These relationships mutually help our roaster understand the growing conditions and the farmer to understand the roasters' preferred quality characteristics and coffee consumer feedback.
In efforts to ensure the highest quality of a healthy coffee farm and the longevity of the farm's life, Safai Coffee has developed the Safai Arabica Farm Assistance Initiative or The Safai Foundation in 2013. Starting with a commitment to replant 80 coffee farms in Central & South America that were ravaged by a fungal disease, The Safai Foundation has successfully replanted 30 farms, restoring these farmer's primary source of income and providing much needed work for laborers.
The Foundation also helped expand emergency room and hospital capabilities of The Simon Conteras Hospital in Marcala, Honduras. Through health care services, education facilities and economic opportunities, the Foundation will continue to extend aid wherever possible.
For the conscientious consumer, every purchase and every product consumed should work toward a positive impact in the supply chain for the greater good. Show your guests that by doing something as small as brewing a cup of coffee, they can help better the lives of those truly in need. If we want to provide great coffee, we must do our part to ensure the families are well taken care of and are growing their coffee with loving, healthy hands.
For more information about the foundation, please visit www.safaifoundation.org.
Guest Supply®, a Sysco® company
300 Davidson Avenue, Somerset, NJ 08873
800.772.7676
guestsupply.com